FW2B, FW4B, FW4C Series Hardware Overview
As with all Protectli Vault hardware, the FW2B, FW4B and FW4C series need only RAM (memory) and mSATA (storage) added in order to have a fully functional hardware system. In addition, an optional WiFi module can be installed as well. For more information on HW compatibility, see this link.
The FW2B, FW4B and FW4C series hardware are slightly different, but the chassis form factor, general board layout, and placement of components is largely the same. The FW2B and FW4B vary mainly in the type of CPU they have and the number of network ports. The FW4C has a different CPU and 4 2.5G Network ports. For a full comparison among different models, please see this page.
The annotated photo below shows the location of the various sockets. The FW2B is pictured. Note that the memory socket is underneath the mSATA and WiFi sockets.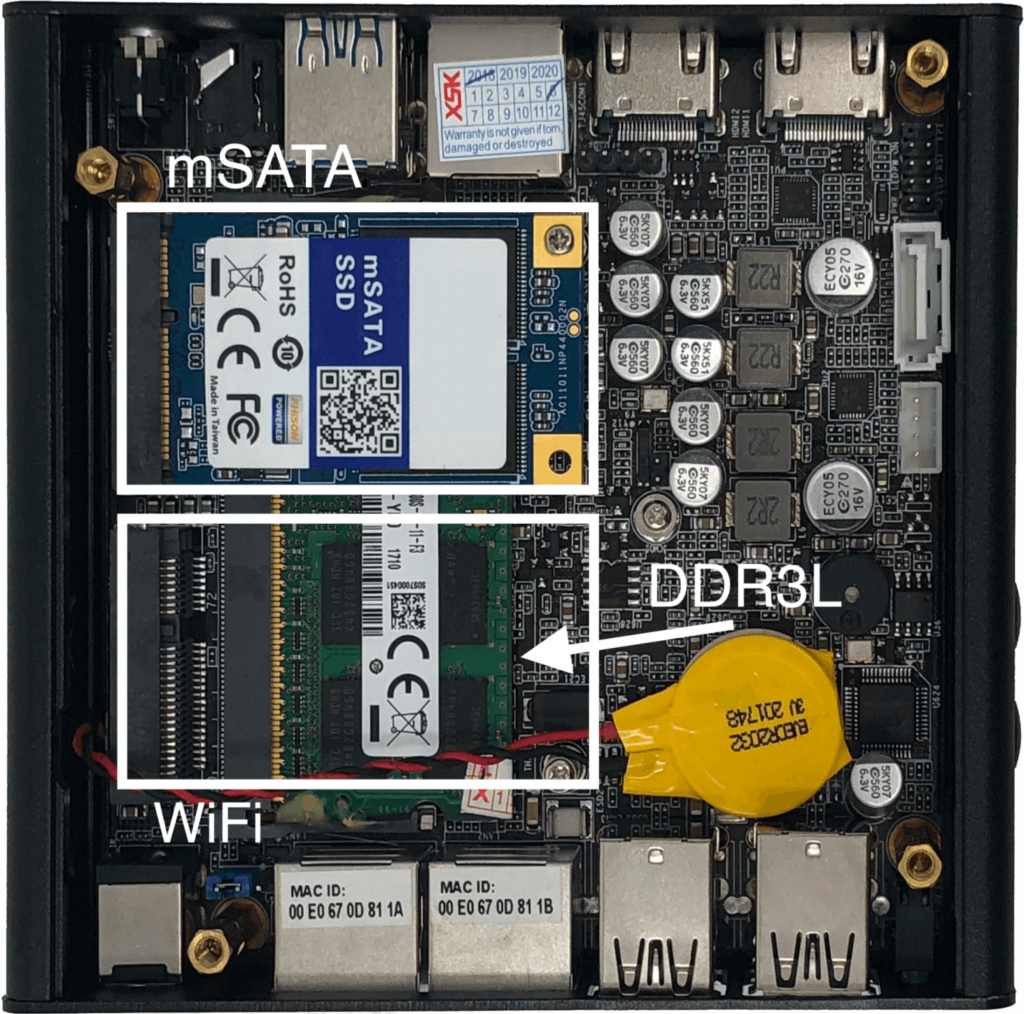 A video tutorial on how to install components for this product line may be found below:
CPU
The FW2B series uses an Intel J3060 processor. The FW4B series uses an Intel J3160 processor. The FW4C series uses an Intel J3710 processor. All of these CPUs have built in suport for Intel's AES-NI hardware encryption.
BIOS
The FW2B, FW4B, and FW4C support both AMI and coreboot BIOS.
FW4C Turbo Mode (Recommended)
Within the FW4C BIOS, it is highly recommended to enable Turbo Mode in order to maximize performance. The initial BIOS did not have Turbo enabled by default, so units purchased from Amazon may not have Turbo Mode enabled. To enable Turbo Mode, access the BIOS options by holding 'Delete' during boot. From here, navigate to the Advanced Tab>CPU Configuration>Turbo Mode [Enabled]. Be sure to save the BIOS settings afterwards by hitting "F4".
If utilizing OPNsense or pfSense® CE as your Operating System, it is also recommended to enable PowerD on the OS. Instructions to enable PowerD on OPNsense may be found here, and pfSense® CE here.
Memory
There is a single SODIMM socket for memory. Additional information on compatible memory modules can be found in the Hardware Compatibility page. The maximum supported memory size is 8GB of DDR3L (1.35V).
mSATA
The FW2B, FW4B, and FW4C come with a single mSATA socket. This socket is capable of holding any logical size mSATA.
WiFi
The WiFi module socket is a mini PCIe form factor socket on the FW2B and the FW4B, however, there are important differences in the connectivity of this slot. The FW2B can accommodate a standard (PCIe connected) mini PCIe WiFi module. The FW4B, while mini PCIe in form factor, is USB connected, limiting functionality and throughput as compared to PCIe modules. Protectli sells a USB connected mini PCIe form factor WiFi module that is available at this link. Instructions for installation of the WiFi module can be found at this link. The FW2B can also accommodate the USB connected, Protectli mini PCIe/USB WiFi module.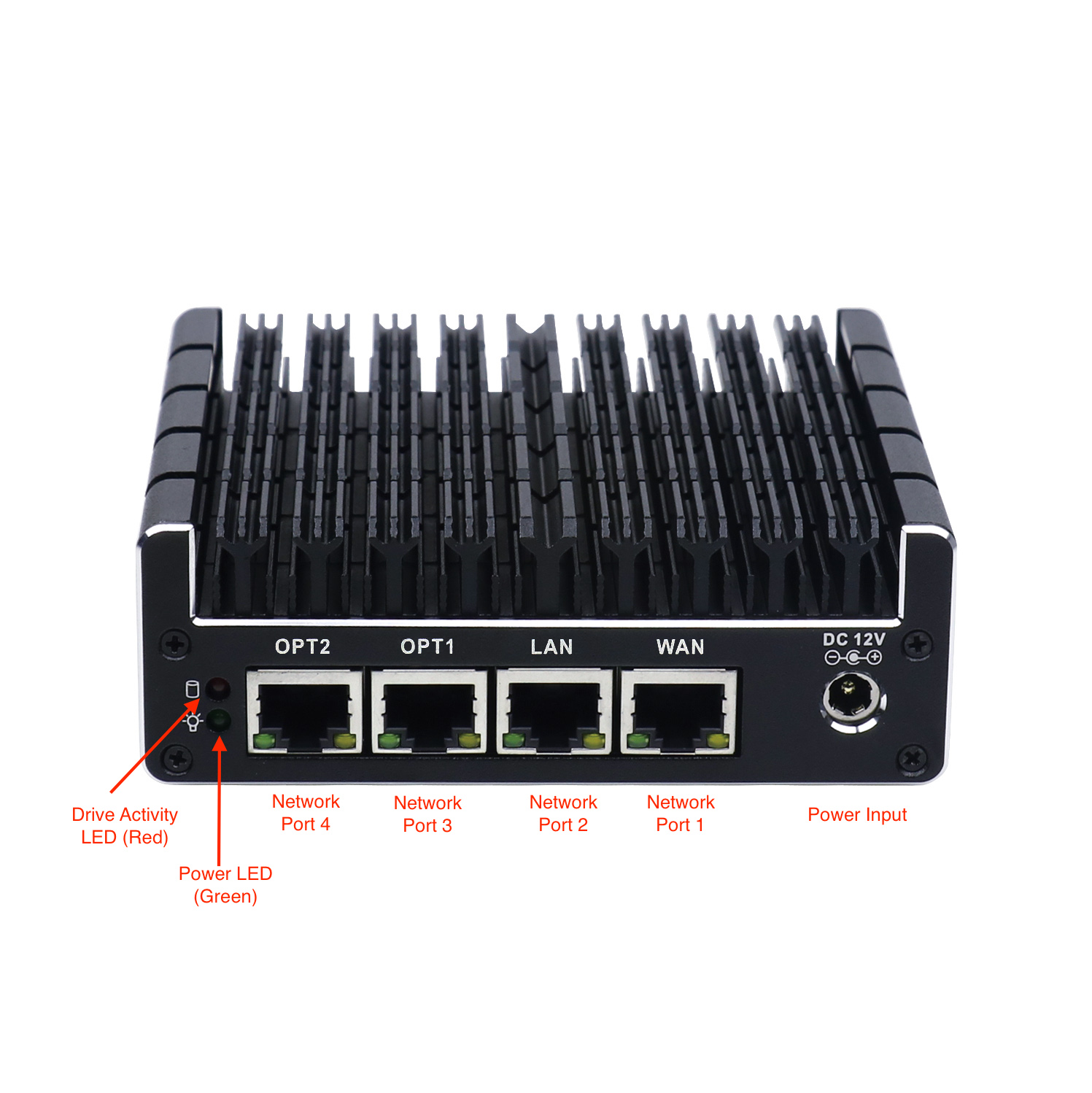 Front Panel Header
Below is an image of the front panel header. The red square highlights the power switch pins.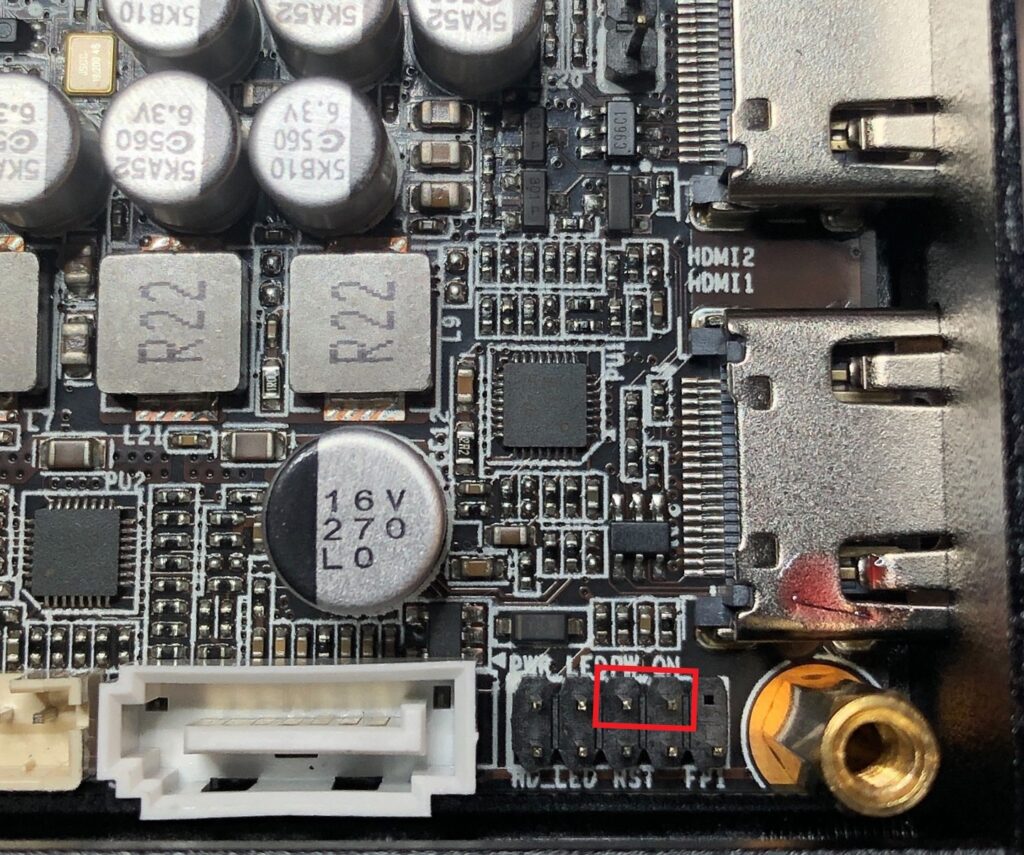 Port Connectivity
The 'Front' of the FW4B Vault is pictured above. The FW2 is different, as it only has 2 network ports (WAN and LAN) but an additional 4 USB 2.0 ports.
Power should be supplied by the included power supply, which is rated for 12V at at least 3.0A.
The Power LED, which lights up green when power is applied, indicates that the Vault has power applied. It does not indicate the status for the operating system
The Drive Activity LED will blink, according to mSATA drive activity. Usually, the user will see the most activity as the unit is booting, or if the unit is under heavy load. For most operating systems, this indicator will not be on and only blink occasionally under most conditions.
The Network ports are each independently connected to the CPU via a PCIe connection. A table that shows port numbering can be found below.
| Vault Model | Port 6 | Port 5 | Port 4 | Port 3 | Port 2 | Port 1 |
| --- | --- | --- | --- | --- | --- | --- |
| FW2x | - | - | - | - | LAN | WAN |
| FW4x | - | - | OPT2 | OPT1 | LAN | WAN |
| FW6x | OPT4 | OPT3 | OPT2 | OPT1 | LAN | WAN |
| VP2410/VP2420 | - | - | 4 | 3 | 2 | 1 |
| VP46XX | 6 | 5 | 4 | 3 | 2 | 1 |
| PFSense(Free BSD) Labeling (in software) | OPT4 (igb5) | OPT3 (igb4) | OPT2 (igb3) | OPT1 (igb2) | LAN (igb1) | WAN (igb0) |
| OPNsense(Free BSD) Labeling (in software) | OPT4 (igb5) | OPT3 (igb4) | OPT2 (igb3) | OPT1 (igb2) | WAN (igb1) | LAN (igb0) |
| Windows 10 (in software) | Ethernet 6 | Ethernet 5 | Ethernet 4 | Ethernet 3 | Ethernet 2 | Ethernet 1 |
Data Sheets
The FW2B datasheet can be found at this link. The FW4B datasheet can be found at this link. The FW4C datasheet can be found at this link.
If you have any questions, feel to reach out to us at support@protectli.com, or find more information in our Knowledge Base.